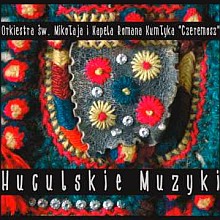 Hutsul Music
(huculskie muzyki)
cd 2006
Najlepsza płyta folkowa 2006 roku w plebiscycie internautów - Wirtu@lne Gęśle
The CD "Hutsul Music" - 3rd place in Folk Phonogram of the Year 2006
This is an original musical project of both groups. The purpose of the project is a mutual exchange of musical experiences, and its effect – a common concert programme based on folklore of the eastern Carpathians. The idea stems from the long cooperation (since 1993) and friendship between the groups, as well as from Orchestra's fascination with richness of the Hutsul folk culture and with outstanding talent of Roman Kumłyk.

Rich and living folk culture of the Hutsul region in Ukraine plays an important role in music of St. Nicholas Orchestra. Musicians of Orchestra have frequently visited the region – hiking in the Ukrainian Carpathians and participating in family or church celebrations – weddings, baptisms, Christmas or recently – the holiday of Jordan. However, Orchestra's fascination with Ukrainian and Lemko music began even earlier – with trips to the Polish and Ukrainian parts of Roztocze region, and participation in the Expedition "Dniester" organized at the beginning of the 1990s by the Association "Łewa" from Lviv. It may be claimed that the Orchestra discovered their own Polish folklore through the Ukrainian folk music.

The programme "Hutsul Music" consists of almost 20 tunes from various parts of the Hutsul region: around Werchowyna, Sokołów, Szepot, Zamogórów, and Kosmacz. Among them there are songs performed at festivities and full of mysticism and dignity – wedding "łatkanie" and carols; as well as ancient "hucułka", "trisunka" and Hutsul "zbójnicki" or "arkan" played many times by both groups. The Orchestra presents its interpretation of Hutsul music, with the support of Hutsul musicians (among them Roman Kumłyk), and with solo parts on various pipes (dvoyanka, telenka, sopilkas) and violin.

Roman Kumłyk's group "Czeremosz"

The group was started by Roman Kumłyk in 1991 in Werchowyna, Ukraine. The band published two albums in Poland, and their recordings appeared also on compilations of Hutsul music in many countries. Roman Kumłyk – a brilliant multinstrumentalist who plays in "Czeremosz" mainly violin and wind instruments (dvoyanka, sopilka, telenka and bagpipes) – is accompanied by musicians playing the accordion, violin, dulcimer and drums. Although at concerts they keep to the original tunes, they do not play in the same manner as during weddings, because such music would not suit a big concert hall. On stage Kumłyk creates different musical arrangements, frequently joining motifs from all over the Hutsul region – around Rachow, Kołomyja, Bukowina, Romania, together with melodies played by Mogur – a legendary Hutsul musician. "Czeremosz" is the main, but not the only, band of Roman Kumłyk. He has led a wedding music group for 25 years, he is a music teacher, and a custodian of a regional museum started by him. Roman Kumłyk has cooperated with the Folk Culture Radio Centre of the Polish Radio, the Centre for Theatre Practices "Gardzienice" in Poland, Warsaw Philharmonic Orchestra and Lublin Philharmonic Orchestra.
Songs:
Trembity i nuty werchowyńskie [3:21]
Śpiewanka "Oj dziłczyno kosiczyno" [2:53]
Śpiewanka starodawna i rumuńska hucułka [6:32]
Sołodeńka jabłoneczka [3:50]
Baba [5:27]
Kołysanka [3:20]
Ładkanie [5:33]
Śpiewanka "Wijut witry" [3:37]
Haja haja [7:03]
Śpiewanki miłosne [4:41]
Śpiewanka o kolędowaniu [4:55]
Ples [1:43]
Kolęda "W niedilu rano" [5:50]
Kołomyjki zakarpackie [3:36]
Arkan [4:44]
Nuty "starowickie" i inne śpiewanki [6:30]
More info: authors, lyrics, reviews, order CD
Photo gallery