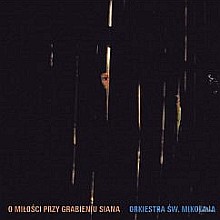 About Love at Hay raking
(o miłości przy grabieniu siana)
cd 2004
When you look south on a nice day from the ridge of the Czarnohora mountains (the highest Carpathians in Ukraine), it seems to you that the whole world consists of mountains. They are all around you. There are the Polish Tatra mountains somewhere far on your right and the Romanian ranges on your left. No borders to be seen, only a labyrinth of intermingled peaks and valleys, creating one large Carpathian continuum. You wish you could stand on every summit, dip your legs in every stream – at the same time. This is not possible. Yet, there is music.

To make this dream come true, we pulled a string of the Carpathians' bow, vibrating with all sounds of the rainbow of these mountains and of the multicultural world caught among them. On the one hand, we went south further than ever discovering the land of unrestrained rhythms of Romanian dances: doina, hora and syrba, bird-like melismas of violins and pipes, rapid dulcimer, dense double bass and energy that can be born only among those who live in the mountains. On the other hand, for the first time we drew inspiration from folk lyrics that were not written by an anonymous "folk" but a specific author – a farm mistress from the Tatra Mountains Wanda Czubernat. Her poems, written "on the kitchen table" are full of joy, love or even passion for everyday life. This poetry can be seen in each Carpathian ridge, in each forest and village.

We suited music to lyrics, lyrics to music… and we found what we were looking for – a common rhythm and scale, "the common denominator of the Carpathians." Words and sounds became one entity – you can no longer distinguish whether they originated in Romanian Maramuresz or the Podhale region. You can see nothing but mountains around. The Carpathians.

Poetry of Wanda Czubernat is clearly distinguishable from works of other Polish folk poets. Sensuous and lyrical at the same time, sometimes ironic poems of Wanda Czubernat overflow with the joy of everyday life, although they can also make you reflect on human condition. They are full of simple but unexpected comparisons and metaphors. The author may be rightly compared to Renaissance poets who appreciated the values of an ordinary day.

The guide to our new music - the world of Romanian kolomaikas and mixture of Turkish, Hungarian and Slovakian influences – is the new vocalist of the Saint Nicholas Orchestra – Ela Rojek. She is one of the key figures of the Centre for Theatre Practises "Gardzienice," an avant-garde theatre famous all over the world. Ela has been performing in "Gardzienice" since 1994, playing main roles in "Carmina Burana" and "Methamorphoses." She has lead numerous drama and vocal workshops. She also cooperates with the "Ancient Orchestra" – a project created in the Centre reconstructing the music of the ancient Greece. This music was recorded in 1999 on a CD "Metamorphoses," that was an important event on the Polish musical scene. In the recent project "Hodè Galatan," prepared by the "Ancient Orchestra" and Earthfall Dance Company, she plays the part of the Priestess.

Cooperation with the Saint Nicholas Orchestra is for Ela a further stage of her artistic development, continuation of her vocal interests and at the same time the return to the Orchestra with whom she recorded their first album "The Music of the Mountains" (Pomaton 1992).

The music of the Carpathians is particularly close to her, because she has been penetrating this area of folklore since 1990s, participating in trips to the Lemko region, the Hutsul region, to Romania and to Bessarabia that used to lie in Romanian borders. A significant role in creating her artistic image was played by her journeys to Bulgaria and Hungary. This is why she feels perfect in this repertoire full of "broken" rhythms and sounds. Poems of Wanda Czubernat and folk lyrics gain particular expression in the interpretation of Ela, emphasized by gesture and movement. She operates her voice masterly and is able to get a variety of colours and shades out of it – from raw folk sounds to lyrical gentle tones. Her voice blends perfectly with a sad doina and fiery czardas.

Another, equally important newcomer to Saint Nicholas Orchestra is Piotr Majczyna (a musician of Odpust Zupełny – a group of "contemporary old music") who plays stringed instruments and whose input to the new repertoire has indeed been great. His fascination with the music of the Carpathians is visible in every song and his enthusiasm gave new energy to all members of the group.
Songs:
Otwarcie [0:13]
O mi o ci pisanie przy grabieniu siana [2:32]
Szedłem sobie [3:18]
Cas miłości (Pochności leśne) [2:21]
Nuta płynie [4:40]
Mój ty archaniele, czarny, leśny, słodki i daleki! [2:16]
Co by co [3:23]
Tam pod borem [3:05]
Jaśkowi A. (Zembiska) [3:47]
* * * Byłeś mój [4:00]
Matka Diebła [3:16]
Pies [2:15]
Dumka żalu [5:17]
Mamo moja [4:27]
Zielna [3:11]
Jo [0:19]
Mołdawska [2:13]
Zamknięcie [0:29]
More info: authors, lyrics, reviews, order CD